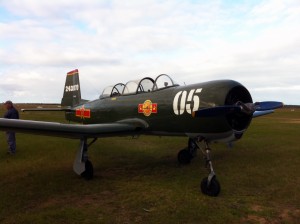 Article written by Pamela Price-Besold
Local aviation enthusiast's celebrated the Queen's birthday weekend with aerobatic and scenic flights in the Parafield based "WarBird" the Nanchang CJ-6.
Warbird pilot Adam Butcher and partner Jana were given a hearty ground welcome by club members on arrival with Mick Hart landing in his Super Cub followed by Di Hart in the RV6, and Chris Jones in his Glass air 2.
The Nanchang CJ-6 is an aircraft designed and built in China for use by the People's Liberation Army Airforce (PLAAF) as a basic trainer. It was first introduced with limited numbers being produced in 1958 by two Aeronautical Engineers Bushi Cheng and Lin Jiahua.
A common, but erroneous, belief is that the CJ-6 is a Chinese version of the Yakovlev Yak-18A. Its predecessor, the Nanchang CJ-5 was a license-built version of the Yak-18. However advancements in pilot training brought a need for a new aircraft with improved performance and tricycle landing gear.
Cheng and Jiahua addressed those needs and introduced the Nanchang CJ-6. The design they delivered featured an aluminium semi-monocoque fuselage; flush riveted throughout and introduced a modified Clark airfoil wing design with pronounced dihedral in the outer sections.
Power for the prototype was provided by a Czech-built horizontally opposed piston engine, but flight testing revealed the need for more power. In 1965 the HS-6 engine was upgraded to a Soviet HS 6 285 hp.
The club facilities remains an excellent base for providing community members an opportunity to participate and view different aircraft that fly in to Port Lincoln and it was encouraging to have so many local families attend.
Gary Jutzen from Cummins, Di Parker, Gary Foster, Kevin Wiebrecht, Al Morton, Ben Chenoweth from 5CC radio and local REX handler Darren Richardson all achieved aerobatic points as they participated in 20 minutes of aileron and barrel rolls, hammerhead stalls and looped the skies. Scenic loops enjoyed by Pamela Price.
Silver Fox of the club Barry Besold bounded out of the plane after taking the stick and reliving many airforce experiences with aerobatics, knee surgeries a thing of the past!
All agreed it was an unforgettable experience and congratulations must be given to all for breaking out of the comfort zone. Well done!
For more information in regard to flying in the Nanchang CJ-6 call Adam Butcher on 0416 460 866 or Pamela Price-Besold on 0427 824145