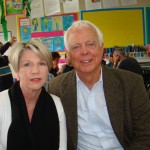 I was born in Brooklyn, New York to Henry and Francis Besold. My family moved to Port Washington Long Island, New York in 1948 where I was educated. I attended Paul D. Schreiber High School and enjoyed mathematics and sports, especially soccer. My hobbies were building kit model aeroplanes, jazz music, skiing and swimming. I had my bedroom ceiling covered with hanging airplanes.
My love for airplanes and flying began when I was about 10. My uncle, Frank Strnad, worked Grumman Aircraft on Long Island and had a Cessna tail dragger that we flew and this experience hooked me on aviation.
After high school I attended DePauw University in Greencastle Indiana, I then returned to Port Washington and continued my studies while working as a lifeguard in summer, driving a school bus and waiting tables at the local steak house to finance my further education. I attended C.W. Post College and graduated with a B.A. degree in Business Administration.
The Vietnam War was now in fill swing and my military deferment due to my student status was soon to end. I visited the Air Force recruiter where I applied and tested to become a pilot. I was accepted for officer training and pilot training.
In December 1967, while training in Texas, my first son, Barry Dwayne, was born.
Pilot training was at Craig Air Force Base (AFB) in Selma, Alabama for 15 months. My first training aircraft was a Cessna 150, then the Cessna twin engine jet the T-37.
After the two introductory aircraft it was on to a real jet., the afterburning, supersonic, T-38 (Talon), known affectionately as "The White Rocket". Class standings determined what aircraft we would go to for advanced training and first assignment. I chose Lockheed, C-130, Hercules. Graduation was followed by survival training, basic in Seattle Washington, jungle in the Philippines and water in Okinawa. Then it was on to Ching Chuan Kang (CCK) Air Base in Taiwan.
From CCK we would rotate in and out of Vietnam and Thailand. We moved troops, cargo, fuel in bladders and refugees in a fairly permissive environment during 1969 and 1970.
I went to CCK unaccompanied, leaving my wife and young son in New York near my parents on Shelter Island. During that time I upgraded to the left seat as pilot in command and logged over 1000 flying hours, most of which was combat time.
I returned to Pope Air Force Base in North Carolina where I became an instructor pilot and later a flight examiner. This where my second son, Brian, was born.
Near the end of the war I was sent back to Vietnam to evacuate troops and friendlies, and resupply remaining personnel by high altitude airdrop missions. We flew specially equipped C-130 aircraft and dropped our cargo from 10,000 feet.
My next assignment was as Staff Officer at 21st Air Force Combat tactics at McGuire air force base where I helped to develop and write tactics for airlift forces and plan exercises. To broaden my career I attended Central Michigan University campus on base and received a Masters Degree in Business Management and Supervision. I was then assigned as a Logistics Officer in Nevada. I was responsible for the deployment planning and execution for The Red Flag and Maple Flag combat training exercises.
Then it was back to the C-130 to the 53rd Weather Reconnaissance Squadron in Guam.
Here I tracked typhoons as they developed and flew into the eye where we recorded data for analysis as to the severity and movement of the storm. I was assigned back to Nevada to Red Flag Exercise as an instructor for aircraft combat tactics. I taught evasive flight manoeuvres to tactical airlift crew from participating forces. In this position I was afforded the opportunity to fly in the T-33, F-104, F-105, F-5E, F-5F, F-4C and F-15. I also flew the C-12F, or Beechcraft BE-200 Super King Air, for almost two years and 1200 hours. This last assignment was flying in support of the F-117, Stealth Fighter program at Nellis air force base and associated restricted areas.
During my 21 years in the US Air Force I was awarded the Air Force Commendation Medal, Air Medal with four oak leaf clusters, Meritorious Service Medal with two oak leaf clusters and several other ribbons and citations.
I took my first commercial pilot position as a Cessna 402 captain flying tourists to the Grand Canyon. This lasted from January to August 1989 when Southern Air Transport (SAT), once of the largest operations of civil registered Hercules aircraft, the L-382, hired me. We had government contracts to provide logistic support for the Navy and Air Force, operating scheduled cargo routes from base to base around the US. There were freight flights into South America and humanitarian aid to Africa in Angola, Somalia, The Sudan and Ethiopia. In 1989 after we delivered a load of medical supplies and food into an airstrip in The Sudan. I was observed carrying a camera that was confiscated. Accused of spying, I was declared persona non grata in The Sudan.
Then it was on to Papua New Guinea on a contract between Chevron Oil and Lake Kutabu.
Shortly after my arrival in Lae I met Pamela Price who was involved with the local artefact store and doing voluntary work with children at the school. We had many great experiences together in Papua New Guinea with Pamela also flying as a part of our team for three years. Flying there east from NADZAB airport outside of Lae into the highlands of Lake Kutubu delivering 20 metric tonnes of equipment per flight to construct an oil refinery and pipeline. We met two Aussie pilots working for Island Helicopters operating Bell Jet Rangers. They took us on excursions to polo cross and dive trops to remote islands off the coast. We both miss this lifestyle.
We often traded flights with pilots from Talair in their Twin Otter and Banderanti Aircraft for flights in the "big balus' the Hercules. The terrain and weather conditions made for very interesting, exciting, but dangerous flying. Pamela and I were privileged to be invited to a 'Sing-Sing' for the official opening of the Kutubu airstrip. This was the first time a white woman had been invited. Tribes from all over the highlands attended this gala event; some had walked for many days to join in the celebration.
The flights for Chevron were always the same NADZAB to Kutubu and back with minimal ground time but the Talair flights were always an adventure into remote areas and rather unusual airfields. During our last trip to Lae, the hotel chef came to Pamela and offered her their newborn baby "Pamela Peter Moto". There are many stories to tell of our times in PNG.
Soon after Pamela arrived in Las Vegas to live I was sent to the Persian Gulf flying into Kuwait to provide supplies and equipment for the fire fighters. Towards the end of the first Gulf War, or Desert Storm, the Iraqis set fire to 600 oil wells in an attempt to cover their retreat and cripple the Kuwait economy. Teams of special fire fighters from America were called to extinguish the fires; it took eight months to accomplish the task.
The flights from Kenya were into war-torn Somalia delivering humanitarian aid for the Red Cross, UN and other agencies. Pamela's major task was to spot either camels on the runways or missiles and guns aimed at us during landing and takeoffs. On one landing in Kismiyu, 45 people were shot during a fight over an old camel.
I upgraded to captain on the L-382 in June 1994 and in December was asked to go to the Boeing-747, which the company was acquiring to enhance its position in the worldwide airfreight market. The 747 is so big that I could walk under it, with my hat on, and not hit my head. We did contract flights for South African Airways from Johannesburg and Cape Town to Vittoria, Spain with loads of fish. Other flights were to Bogota, Columbia, where we transported tropical flowers and roses to Miami, Florida; they don't only grow poppies.
We worked closely with the Drug Enforcement Agency (DEA), checking for contraband in the shipments. The Columbians were always trying to smuggle cocaine in our shipments.
Occassionally the DEA would allow a known drug shipment to proceed to Miama in order to catch the receiving operators.
I signed on as a contract captain with China Airlines (CAL), based in Taiwan, in January 1999; shortly after we left Las Vegas and relocated to Australia. I flew both passenger and freight for CAL. The most interesting flight I had was a passenger trip back from Vietnam to Saigon where little had changed since 1970. In June 2003 CAL retired me due to mandatory age 60. I came home to Australia where I am a permanent resident.
Pamela encouraged me to get my Aussie pilot's license and I obtained my commercial after testing and training with Barry Firth. There is a big difference between the 747 and a Piper Archer. The cockpit in the 747 is three stories high, so I felt like I was sitting almost on the runway during my checkout.
In May 2004, Air Atlanta Icelandic, with headquarters in Keflavic, Iceland, hired me.
I was once again a 747 captain, flying cargo for Malaysian Airlines, Lufthansa, Cargolux and Cathay Pacific on wet lease contracts. I was initially based in Malaysia and then Dubai, the mid-point of our flights between Europe and mainland China. My 747 flying came to an end in January 2006 with the contract cut backs and lay offs, which led me to my present position.
Two years ago I was hired by Stehr Group as their corporate pilot, along with Tony's Tuna, flying a Cessna 337. For two seasons with Kiwi White as my spotter, I have flown the "push-pull" for both companies tuna spotting out in the Bight.
Flying is my life and my life is flying. I still have the same enthusiasm and thrill as when I began. I am committed to aviation and my wish is to fly and train others for as long as I am able.
My career has demanded an extremely independent, organised and supportive partner who can make decisions as my lifestyle rarely allows the luxury of being together. I have spend five years of my life at over 35,000 feet, and often only to be home four weeks in a year.
I enjoy Port Lincoln, my involvement as captain in the flying club, and time with Pamela's nine grand-children.
Barry Besold