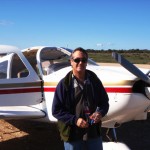 My first flying lesson was on the 10th of May 1975 at the Pinnaroo Aero Club. The cost was only $10 an hour which included the instructor!
I was introduced to flying at a young age with family stories and photos of uncle Harry Butler. He was a chief flying instructor in World War 1 and trained over 2,700 pilots during the war and was twice awarded the air force cross for bravery and skill in action.
As a young boy I could not understand why my 'old' grandmother paid for my first joy flight. I used to spend time with my father's brother as he built and flew gliders at Gawler. My father was also a pilot during World War 2 and participated in the world's longest bombing raid in his Liberator on 27 Oct 1944. His aircraft was in the air for 18 hours and 20 minutes. Hence flying has been with me all of my life.