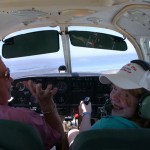 I don't remember ever not wanting to fly, even as a very small child. As a pre-schooler I was with my Grandmother and Uncle Bill at Whyalla Aerodrome when Bill decided he would have a joy-flight. I asked to go with him but was refused. However I managed to race him into the small twin and once in hung on to a seat until they had to give in and let me go too. The pilot was Chinese and I think the aircraft was an Avro Anson or maybe a Lockheed. I still remember seeing houses and cars like toys far below.
Flying began for me right here in Port Lincoln some 50 years ago, on a trial introductory flight with the then well known John Doudy, in a Cessna 175 Romeo Gulf Romeo, when I finally got my hands on the controls of an aeroplane and discovered how easy, subtle and wonderful it really was/is.
First solo was on runway 23 at Port Lincoln Airport in a DHC-1 otherwise known as a Chipmunk, a nice smooth landing on the main landing gear, the last smooth one for quite a while. It took much longer and many not-so-smooth to master three point landings in this classic old trainer. I doubt I could do it now.
But in those days before going solo everyone had to do spins. I did mine in the Chippy and it was a terrifying ordeal. To spin the aeroplane is held nose high, no power, then as it noses over in to the stall full rudder is applied. The result is an aeroplane revolving around its vertical axis while heading for the ground. Recovery in the Chippy takes full opposite rudder and full forward stick as far as it will go. Then, as aircraft stops rotating and airspeed recovers, full power and back on the stick. My first spin was over the beach now known as Point Boston. The beach was centred in the middle of the windscreen, sea one side – land the other, all of which greatly emphasised every rotation. My nerve gave out so with eyes tight shut I shoved the stick forward and held it there until we actually went back in underneath, first leg of an outside loop. Needless to say it was all somehow recovered and Instructor and I went on to fly another day, indeed to do spins again and again both under instruction and solo. But I recall my Mother telling me when I got home that day I was very pale. No way did I ever tell her the reason.
My every spare penny went towards flying until parents decided it was dangerous and not appropriate for their little girl. Unfortunately they had last say as I was still far short of the 21 years needed to make my own decisions. How things have changed!
So after that landmark 21st birthday I went on to complete my licence at last. However marriage and ensuing children soon put flying on the back-burner again. I did manage to maintain currency until a big pregnant belly got in the way of a smooth landing and the time had come to give up. That baby was a strapping 15 year old when flying began again and it has not stopped since.
January 1994 Andrew and I bought CDZ, a Piper Cherokee 180E from a lovely old man who had cherished it for years but sadly his poor health had put a stop to his flying. The day I flew it off his farm strip was almost as good as first solo. With not much fuel and only me on board it climbed out like a rocket. It has been a great love affair for me to have this fantastic little bird to fly over the ensuing years. One of the main uses was to fly back and forth from where we lived in Victoria to my parents here in Lincoln. A two day drive became a flight of four hours. We could easily fly over for weekends or as long as we wanted and log book testifies a total of 28 trips here over the next six years. We would ring Dad on our 'brick' mobile from overhead Port Neill and he would be at the airport waiting for us by the time we landed.
Taking members of our family flying has always been very special, particularly in later years our Grandchildren. None of them so far seems to have inherited the 'flying bug' but I continue to hope. Right from birth aeroplanes have featured on their toys, books, clothes, bed linen etc but while they enjoy flying with Granny they are not at all fanatical about it. However the encouragement and support from my husband Andrew has always been and continues to be vital. While he doesn't fly as a pilot, (except as my sometimes autopilot) he is refueller, tie-er-downer, packer upper, navigator, cover upperer etc. Without him I struggle to even get out of the hangar. He is also unshakable in turbulence and bad weather, a great asset to us both. He delights in 'aeroplane talk' when blokes stroll up to have a pilot-to-pilot yarn, ignoring the 'little woman'. He strings them along with some amazing stories.
Flying has taken us on some fabulous jaunts over much of this great country. Inland Australia to Alice, Uluru, Kings Canyon, Mt Dare, Dalhousie etc – camping in Arkaroola, Hattah Lakes, Muloorina Station- places like Broken Hill, White Cliffs, Thargominda- across the Nullabor to Perth- Innaminka, Dig Tree, Longreach, Winton. Then a big trip up through the centre – Andamooka, Alice again, Tindall, Mataranka, Darwin, Kakadu, Kununurra, Broome, etc, down the coast to Perth then back across the Nullabor. Check out the Great Australian Bight, flying just out to sea at something under 1000′. It hasn't always been smooth flying but lots of adventures too numerous to tell here. There have been times when I wondered why I wasn't sitting at home knitting, but not many. I encourage anyone with the urge, to do some careful planning and packing and head off.
We still enjoy the flying equivalent of the Sunday drive. Recipe: -Open up a WAC chart, find an airport not too far out of some town- any town and head off! If it's Saturday pack a toothbrush in case you decide to stay. Walk, taxi, hitch in to town and find an old pub or maybe just a coffee shop.
Elliston, Wudinna, Ceduna, Cummins if you want to stay local or head off across the water and have a magnificent lunch at Aldinga. Meet and chat with other aviators. But before you go too far, cast your eyes over the area around Port Lincoln. This has to be one of the most beautiful places for flying to be seen anywhere.
A piece of advice to young pilots and would-be-pilots, don't ever think you know it all (no two flights are ever the same) and never, ever stop learning. A Night VFR Rating is an excellent way to polish your skills as you build up your hours.
And now here I am back where flying began for me. Back in the Port Lincoln Flying Club – a good group of pilots and their supporters.
Sue Chappell
ARN 177420